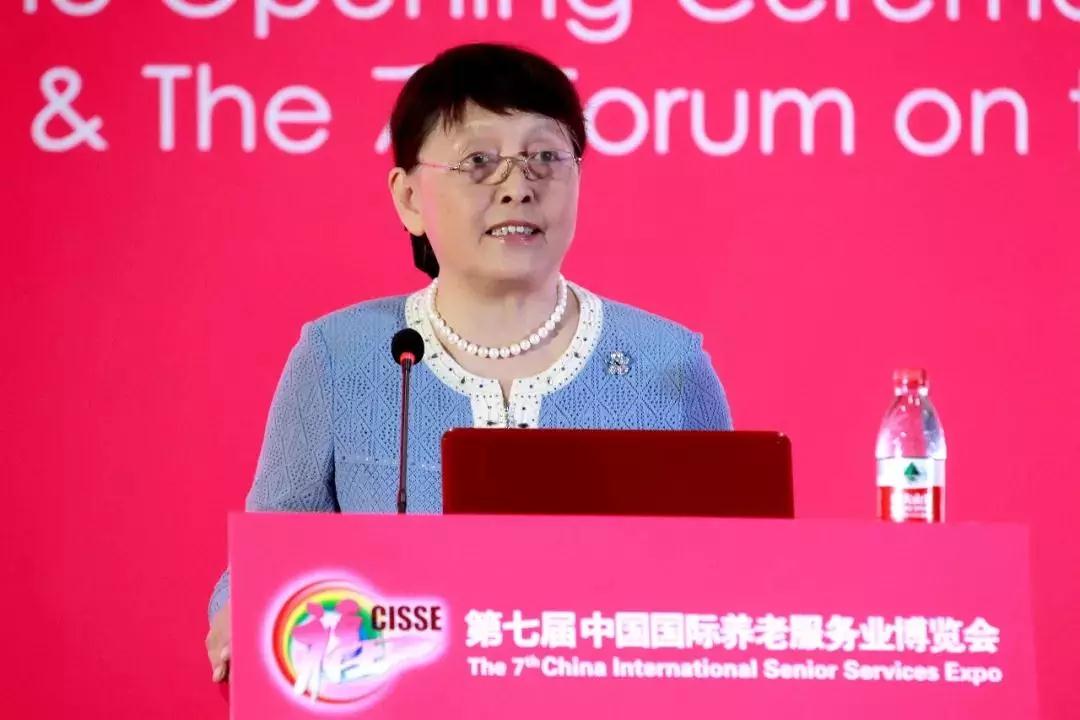 Mr. Gregory Ross Shaw, distinguished guests, ladies and gentlemen:
Good morning!
With beautiful flowers of May in Beijing, we welcome the successful opening of the 7th China International Senior Services Expo in this beautiful season. I am here to express my congratulations to the successful hosting of the Expo, as well as my warmest welcome and heartfelt gratitude to the guests from home and abroad and friends from all circles attending this expo, as well as relevant departments and enterprises who give substantial support to this expo!
In 2018, we enter a new era. President Xi Jinping made a major judgement on the 19th National Congress of the Communist Party of China that the principal contradiction facing Chinese society in the new era is that between unbalanced and inadequate development and the people's ever-growing needs for a better life, proposing many new requirements on making up for the short board of livelihood, guaranteeing and improving livelihood and defining the direction for social development including senior services. Currently, our country's population aging degree is relatively high in the world. Statistics show that our country has 222 million seniors over 60, accounting for 16.1% of the total population. Not a single person can be left on the road to build a moderately prosperous society. More reform and development results that can benefit all people cannot be achieved without the well-off of more than 200 million seniors. Therefore, to carry out people-oriented development concept and accelerate the cause of the aging population and senior service industry becomes certainly an important content in the economic and social development to transform structure, improve quality and repair the short board.
The government of China has been paying high attention to the cause of the aging population. Since the 18th NCCPC, we have had remarkable results in the positive response to the aging population. Firstly, people's attitude towards the cause of aging population changed. They do not treat senior care as a burden of the society and family, and the government encourages social force to rapidly develop senior care services, complete relevant planning and supporting policies, expands the market for seniors' products and senior care services to make it a new boost to stimulate consumption and drive economic increase. Secondly, we strengthened the top-level design for the development of senior service industry; completed senior care policies, regulation and relevant measures continuously, promoted the construction of senior care and medical insurance system covering urban and rural areas, and relieved urban and rural residents' senior care and medical burden. Thirdly, seniors in urban and rural areas who have no working capacity, no income or dependents and household enjoying five guarantees are fully secured by the government. Fourthly, we referred to the advanced experience from home and abroad, forming initially a senior care service system with Chinese characteristics. The system is based on family care, supported by community, supplemented by institutions and combines medical and care. We carried out the construction of senior care service system, standard, facilities and talent team, promoted deep integration and extensive promotion of intelligent information technology in the seniors care service industry. Fifthly, we focus on the mental health and spiritual and cultural demand of the seniors, let them feel security and happiness, and make them live with dignity and higher quality to further improve their sense of gain and happiness.
As a national and professional association guiding the development of senior service, China Association of Social Welfare and Senior Service has carried out effective work to push the response to the aging problem up to the level of national strategy, make targeted poverty alleviation and senior care activities in poverty-stricken areas, explore innovative model that combines targeted poverty alleviation in poverty-stricken areas and senior care service system construction in rural areas, build and complete the care service system for left-behind elderly, promote service quality construction of nursing institutions for the aged, cooperate with the government to make senior service institutions standard pilot project, build "senior expo" platform and promote the senior service market to open to the world. All these efforts allow our senior service industry to catch up quickly, thus promoting fairness, justice and harmonious development of China's society.
China International Senior Services Expo has been held for 6 times consecutively. With more countries and enterprises attending the expo, there are more highlights on the expo and more fruitful results. The Expo in this year will embrace governmental institutions, social organizations and enterprises from 19 countries in the world and 23 provinces in China. We can know the latest concepts and the most cutting-edge research results, humanized design and abundant intelligent products that lead the trend of world senior service industry. The Expo has become a high-end platform for domestic and foreign senior service industry to look forward, exchange and make innovations and development. The 7thChina International Senior Services Expo will continue to be themed on "feel grateful for the society, care seniors, provide supreme service and boost development" to promote in-depth exchange and cooperation of domestic and foreign senior service industry, accelerate the cultivation of domestic independent senior service brands and new products and make contributions to the scientific development of senior service industry.
I am fully convinced that with high attention from the party and the government, support and enthusiastic participation from all circles of home and abroad, China's senior care service will definitely grasp opportunities, face challenges and make new leap forward and new development; seniors in China will have new life with more dignity and higher quality. The beautiful vision that seniors share the results of a moderately prosperous society and build a prosperous country together will certainly come true!
Wish the 7th China International Senior Services Expo achieve complete success!
Thank you!